USA Karate team trial will take place this coming Saturday January 15, in Colorado Springs, CO.

The team selection take place in two phases. First phase competition will be in the morning with kata
male and female and followed by two male and female kumite heavy weights. The afternoon session will consist of the 3 remaining kumite categories. This competition will be among the top 6 athletes from national competition. This selection will be for top athlete who will represent USA karate in international competition in 2022 including Pan American championship and many more.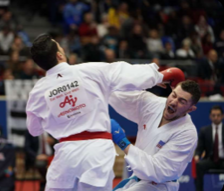 Our own Kamran Madani will represent IMA in this intense competition to secure his spot in USA Team for another calendar year. He has been training very hard to prepare himself for this day.

The competition will start at 9:00am on Saturday and will be at the Alta Hotel (formally Hotel Elegante) at 2886 S Circle Dr. Colorado Springs, CO 80906. So, if you are interested of watching the event and cheer up Sensei Kamran, come on down and be loud!
Good luck Sensei Kam! We are proud of you!