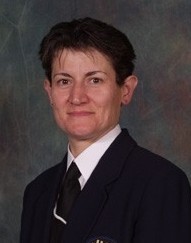 Fariba Madani was born and raised in northern Iran, the second to youngest of five sisters. An athletic youth, Ms. Madani had her first bike at the age of 7, and was the only girl in her neighborhood who rode a bike! While the other girls were playing dolls, she was playing soccer with the boys until her parents finally convinced her to stop. She then began playing volleyball and then competitive handball in high school, until Iran's Islamic revolution put an end to competitive athletics for her.
After graduating from high school, Sensei Madani left Iran to continue her education in architecture in Paris, France. The combination of full-time studies and full-time work left little free time for serious involvement in sports for several years. Because she only knew a few words of French when she moved to Paris, the first two years of Sensei Madani's studies were French language. She then started her architectural studies, and in seven years completed her master's degree.
Two days after her graduation, Sensei Madani fulfilled a childhood dream of visiting the United States when she flew to visit her uncle in California. There she met Hanshi Madani. In February 1994, the two were married, and she moved to Colorado, where she began her karate training and used her considerable energies to help her husband open his first independent dojo in Louisville, Colorado.
After four years of training, Sensei Madani achieved her first degree black belt in 1998. Her commitment to karate is unsurpassed, as evidenced by the fact that she trained the night before the birth of each of her children, and returned to classes two weeks after each birth! Sensei Madani competed from 1995 through 2000, when she ended her career as a competitor to focus on coaching and officiating.
An extraordinary, goal-oriented woman, Sensei Madani was the first national karate referee from Colorado and the first U.S. female referee at the Pan American level, for both kata and kumite. She decided then to be the first female referee from the United States at the World level, and achieved this distinction in November 2004 at the world championships in Mexico. In July 2005, during the USA-National Karate-Do Federation meeting, she was nominated to be a member of the referee council, the first woman ever to be named to the council. It did not too long for the World Karate Federation (WKF) to recognize her talent and knowledge of Karate, to nominate her a member of WKF Referee Commission on 2010, the most prestigious position for any official. Once again, the first woman from USA ever been nominated to this position.
As a U.S. representative to the referee committee, Sensei Madani needs to be present at all national championships and other signature events as well as World Championship which entails a great deal of travel and patience. Currently a sixth degree black belt, Sensei Madani practices every day, and sometimes twice a day. She feels a great deal of pride in the accomplishments of her students and the joy of their parents.