As an IMA student, you will study a dynamic and powerful traditional martial art called Shotokan Karate. You will learn how to generate speed, strength and power through correct breathing, coordination of movement and concentration. You will gain a mastery over your body which will help you in both self-defense situations and in everyday life.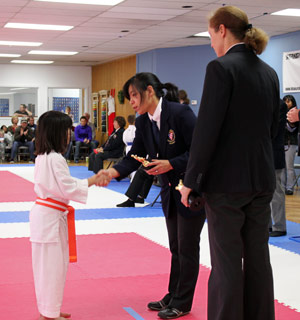 Karate training at IMA is much more than just a physical experience, however. It is a complete discipline that also involves the heart and the spirit. It is through training your body that you can learn to also discipline your mind and temper your spirit.
The most important goal of IMA karate instructors and their students is to help one another develop a balance within themselves so that they may express their true natures and ultimately become better human beings. By joining IMA, we will help you develop your self-confidence and your self-discipline, help you focus your mind, improve your self-esteem and have a more positive attitude.
Why You Should Choose IMA Karate
Choosing a karate school (dojo) is a very important first step for every karate student. You need to be sure that you find the place that is right for you and for your family. IMA provides a dojo environment where the training is serious but the atmosphere is friendly and supportive. Each student at IMA is able to progress at his or her own rate. At IMA, a student's rate of advancement depends on personal ability and, more importantly, on their level of commitment to training.
Many factors make IMA Karate in Louisville, Colorado a unique place to pursue the study of martial arts for you and your family:
Conveniently scheduled classes
Convenient location for Boulder County and Denver residents
No contract is necessary and our pricing is a very reasonable monthly fees with discounts available
High quality of instruction with over forty years of experience
Year-round training
Special and often individualized attention by skilled instructors for students of all levels and abilities
Flexible programs – students can start karate at any time
Special instruction to help youths develop motor skills and coordination
Guidance to help youths respect their parents and honor their friendships, relationships, and obligations
Special help for students with ADD and learning challenges
A wide variety of classes in karate and weapons training
Special seminars available for competitions, refereeing, and other martial arts programs
IMA Karate "Dojo Kun"
IMA uses the traditional Shotokan "dojo kun" (karate school affirmations) in all of its classes. Our dojo kun is intended to remind students to carry the physical, mental, and spiritual discipline and benefits of karate with them out of the dojo and into their everyday lives. The IMA family has added a final affirmation to the traditional list, to encourage love and respect in all relationships.
Dojo Kun

Seek perfection of character
Be faithful
Endeavor (to excel)
Respect others
Refrain from violent behavior
Love yourself and love others
We offer you and your family one free class and welcome you to learn more about our family-oriented IMA dojo and look forward to hearing from you.