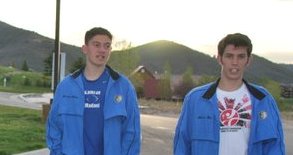 As you all are aware, the IMA Competition Team did a wonderful job at the USA National Karate championship and team trails in early July. The result of hard work and dedication of our team brought victory to their competition and now Michael Ford and Kamran Madani are eligible to represent United States Karate team in the upcoming Pan American Championships to be held Sept. 1-3, 2011 in Brazil as well as the World Karate Championship in Malaysia on Oct. 13-16, 2011.
The average cost of each trip for each one of these young athletes is about $3,000.00.
Once again, we are turning to our Dojo family to help them raise as much as possible so they are able to afford this trip and compete in these prestigious competitions. We are organizing several fund raising events that requires everyone's support. Here is a summary of these events:
We have made a special "Strong Karate" bracelet that is for sale at the front desk for following prices: 1 for $3.00 or 4 for $10.00.
A garage sale is scheduled for Saturday, August 20th at the Dojo. Your donation of gently used household items and clothing, toys, games, tools, small appliances & electronics, housewares, and all sort of accessories are in need. Please drop all items at any time before Saturday to the basement of the Dojo.
We have gift certificates and tokens from local restaurants that are for sale for the listed price or for the best offer. Please see Mrs. Madani for details.
The competition team is selling butter braid dough for another week. You can store the frozen dough for 6 months or give them as a gift to your friends and relatives. The cost of each dough is $12.00 and we have several varieties to choose from.
As always, your cash donations will be greatly appreciated. Please make your check payable to "IMA competition team" and remember that your donation is tax deductible.
Thank you for all your help and support. We all know this is not the best time for our economy and we look forward to see Michael and Kamran coming back home with bright medals around their neck to prove that they deserved all the support from their big IMA family.