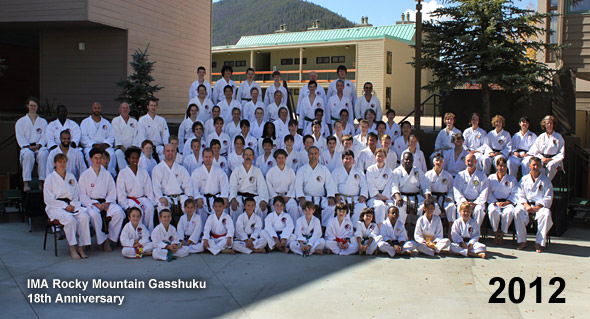 This year's Rocky Mountain Gasshuku was held over the last weekend of September at the beautiful Keystone resort at 9,300 ft. altitude. The students learned a lot of new techniques during Saturday's training sessions and the Saturday night dinner was followed by many performances and singing and dancing that made the evening another memorable, fun time for everyone. The Sunday kumite competition added a new flavor to our training schedule and with the help and advice from the visiting coaches, everyone had a chance to be advised on their skills and improve their strategies.
IMA would like to extend a thank you to all the students, parents of students, out of state Sensei and out of state participants as well as Coach Dustin Baldis, Coach Tommy Hood and Sensei Cheryl Murphy for their effort to make this camp another successful event.
For those of you who missed this year's camp, just remember to plan on the next year so you don't miss the fun and (and a great learning experience)!
Next year's camp will be held the last weekend of September, 2013.