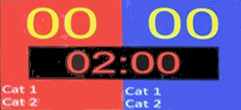 The IMA Rocky Mountain Championship is just a few weeks away and in preparation for the tournament, we invite you to join us at the dojo on Saturday, April 27th for our annual scorekeeping seminar.
The seminar is being held from 12:30 to 2:30 and is designed to help parents and our volunteer scorekeepers understand the various rules and procedures that are required to run one of the most successful karate tournaments in the United States!
We will cover how points are awarded, how penalties are determined, and all of the various hand signals and terms used by referees. No experience is necessary to attend the seminar – just come on by!
Also, please be sure to check with Sensei Madani to see which volunteer opportunities are available for the tournament. In addition to scorekeeping, we need people to help with setup/teardown of the tournament, check-ins and registration, awards distribution and general "kid-wrangling" (especially for the Little Dragons).