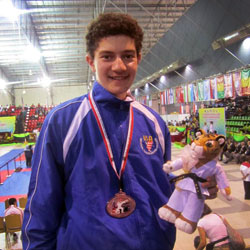 Kamran was one of two members of the I.M.A. Dojo Competition Team at the recent championship in Malaysia. He competed in the 14-15 years old male-under-70 Kg. Kumite (sparring) category. The other member of I.M.A. was Michael Ford who unfortunately was eliminated before the medal round.
The IMA Team trained all year for this highest level international karate event. All of our athletes performed great, starting first at the nationals level in order to qualify for the US Team. As an organization, we were thrilled that their dedication and hard work paid off with Kamran winning the bronze medal at the world level.
For the past several years, the IMA team has consistently qualified for the US Karate National Team and I.M.A. students have placed in many national and international competitions. This year, is the second time that a member of I.M.A. Dojo placed in the World Level Championship.
"It is an honor for our dojo and the result of their hard work," says Madani Sensei.
The World Karate Competition took place Oct. 13-16, 2011, in Melaka, Malaysia. Kamran traveled with 28 other members of USA Karate Team to represent the United States. The tournament, which takes place every other year, is the most prestigious Junior Karate Competition in the World.